Thank you for your interest in scheduling a photo session for you and your baby. When scheduling your baby's session, you can choose to have pictures taken at your home or in my studio! Either way, you will have a variety of beautiful portraits of you and your baby. In-Home sessions allow for a documentary style approach to your baby's life. Studio sessions emphasize beautiful portraits shots and an opportunity to get out of the house. :)
If you are unsure which type of session is best for you, we can discuss the pros and cons before the shoot.
Choose your Session.

What is Included in Your Session?
In-Home & Studio sessions include:
Pre-session phone consultation
Pre-session what to wear and do emails
45 minutes session
Post-shoot consultation
Online Viewing/Shopping Gallery for 30 days
Mobile app of favorite images
$50 gift card for a second session
First Year Series, (3 - In-Home or Studio sessions) also include:
Portrait Album
Framed Prints
Year-long online gallery
Post Session.
After your session, we will meet to go over your photos and the various packages and a la carte options that may work for you. Print prices begin at $50 a single print (8x10), $125 per single digital image, $400 for a framed prints (which includes the digital negative) and packages begin at $325 and go up to $1200. You can opt for interest-free monthly payments for any purchase and you will have 30 days to decide what to purchase after our post-shoot consult. Making decisions on which photos can be difficult because there will be many that you love. But I am here to help you decide and narrow down the best choices!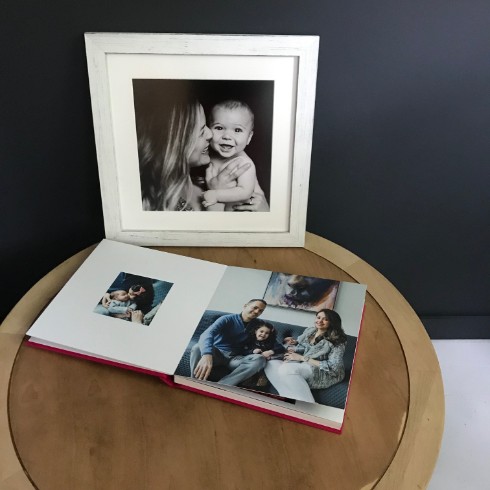 The Process.
Pre-shoot consultation emails.
The Session!
Photo consultation -Favorite and Order
Online Gallery for 30 days
Receive order and mobile app
Enjoy your photos!
Baby grows - schedule a new session!
FAQ
Does the session include multiple poses and outfits?
Oh yes. Babies need to be photographed in onesies, preciously naked and in an adorable outfit.


Do you photoshop images?
I will photoshop images once an order has been placed. I do not like the image to look airbrushed because I feel babies are naturally beautiful. I will, however, remove baby acne and scratches and help clean up the parents too when necessary. Slimming any "baby weight" from parents is easily done upon request. :)
Do you photograph babies in baskets?
I do not photograph babies in baskets or other strange configurations. I believe the best and safest way to show the size of a newborn is to have them swaddled and or naked in the parent's arms. I believe in safety and authenticity.
Where is the studio?
The studio is located on the beautiful campus of Pineland Farms in New Gloucester Maine. It is approximately a 15-minute drive from downtown Freeport and 30 minutes from Portland.


In-home session travel costs?
There are no travel costs for In-Home session in the greater Freeport area. Travel fees for the following:
Cape Elizabeth/Kennebunkport: $50
Boston: $175
Cape Cod: $250
Bar Harbor: $175
NYC: $350
Can I purchase a gift card for a baby shower?
Yes absolutely! Gift cards are available in any amount. I recommend selecting the Studio session fee as a gift card to get them started! Gift cards are purchased through the store and a card will be mailed to you.


What is a mobile app?
The mobile app is a custom photo album for your mobile device. It also links to my studio and store so you can stay in touch after the session. They can be installed on as many devices as you would like and can easily share with extended family members. Installing the app takes less than a minute and the images are selected through your online gallery.
Does the session fee come with prints and digital files?
No, the session does not include any digital files or prints. Those are purchased separately after the session. Because most people do not know what they want until they see the images I do not include prints or files in my session costs.
How do I purchase the digital files?
Digital images can be purchased individually at $125 per image. They also come included in all framed print orders. For example, if you order a beautiful 11x14 print framed for your home, that corresponding digital image is included for you to make prints with for other family members or include in your annual family calendar etc. Packages are available that include all of the digital files as well.

How long does it take to receive my order?
Orders take 4-6 weeks to be delivered after the payment is received in full. If your order includes digital images, digital images will be available for download 2-5 days after payment is received in full.


Can we bring grandparents to the session?
Absolutely! Grandparents are invited and welcome to join in.
Can we include our pets in the session?
Absolutely! We can include pets In-Home sessions only. Sadly my studio cannot accommodate pets. I have an approach to including pets in sessions which I am happy to discuss with you.
How long do you keep the digitals?

I keep the digital negatives indefinitely for those who have placed an order. I only guarantee them available for the life of the gallery.
Baby Registry
Add to your baby registry Gift Cards from Sharyn Peavey Photography and even some of the fine photo products that you love and want of your baby! How does that work? Contact us for details.
It's the gift that lasts long after your baby has grown up!