Congratulations on the new baby (or baby-to-be)! Your life is complicated enough and about to get even busier, so we made it easy for you to get those awesome baby pictures without all the fuss! Choose a single session or pick one of our First Year packages to capture all those important milestones.
Choose your Session.

What is Included in Your Session?
In-Home & Studio Single session only includes:
Pre-session phone consultation
Pre-session what to wear and do emails
45 minutes session
Post-shoot consultation
Online Viewing/Shopping Gallery for 30 days
Mobile app of favorite images
First Year Packages include:
Pre-session phone consultations
Pre-session what to wear and do emails
3 45 minute sessions
Post-shoot consultations
Mobile app of favorite images
One Portrait Album
Three Framed Prints
Five high resolution digital files from each shoot
Five gift prints from each shoot
Year-long online gallery
*you can swap out one of the three sessions or upgrade to include a maternity shoot
Post Session.
After your session, we will meet to go over your photos and the various packages and a la carte options that may work for you. Print prices begin at $50 a single print (8x10), $125 per single digital image, $400 for a framed prints (which includes the digital negative) and packages begin at $325 and go up to $1200. You can opt for interest-free monthly payments for any purchase and you will have 30 days to decide what to purchase after our post-shoot consult. Making decisions on which photos can be difficult because there will be many that you love. But I am here to help you decide and narrow down the best choices!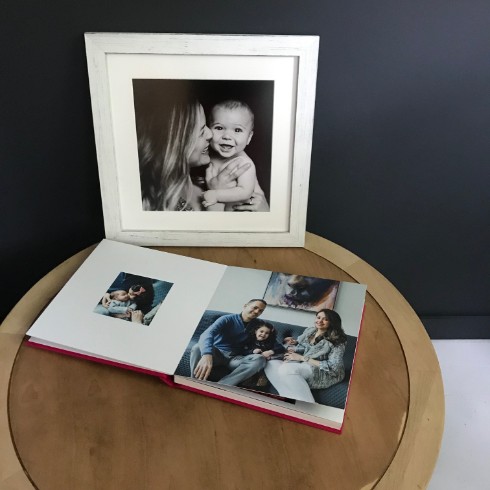 The Process.
Pre-shoot consultation emails.
The Session!
Photo consultation -Favorite and Order
Online Gallery for 30 days
Receive order and mobile app
Enjoy your photos!
Baby grows - schedule a new session!
Baby Registry
Add to your baby registry Gift Cards from Sharyn Peavey Photography and even some of the fine photo products that you love and want of your baby! How does that work? Contact us for details.
It's the gift that lasts long after your baby has grown up!